Ten letter words starting with D and ending in D
Following is the complete list of ten letter (10 letters) words starting with D and ending in D for domain names and scrabble with meaning.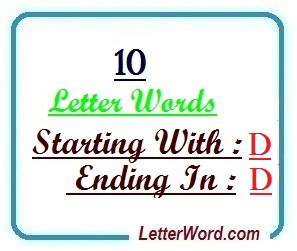 Ten letter words starting with D and ending in D
daydreamed
daylighted
deadheaded
deadlifted
deadlocked
deadpanned
deaminated
decentered
deciphered
decisioned
decollated
decoloured
decomposed
decompound
decoupaged
decussated
defalcated
deflowered
defocussed
defoliated
deforested
dehydrated
delineated
delustered
demagogued
demarcated
demergered
demolished
denazified
denervated
denigrated
deodorized
deoxidized
depolished
deprecated
depredated
desecrated
deselected
desiccated
designated
desilvered
despatched
destructed
desulfured
detasseled
determined
detoxified
deuterated
devaluated
devastated
diabolized
diagrammed
diazotized
dieselized
diffracted
diminished
dingdonged
disallowed
disarrayed
disbosomed
disboweled
discharged
disclaimed
discolored
discommend
discounted
discoursed
discovered
discrowned
disendowed
disengaged
disfavored
disfigured
disfrocked
disherited
disheveled
dishonored
disinvited
disjointed
dislocated
dismantled
dismounted
disobliged
disordered
disparaged
dispatched
dispeopled
dispersoid
dispirited
displanted
displeased
dispraised
disquieted
disrelated
dissembled
dissevered
dissipated
distracted
distrained
distressed
districted
distrusted
divebombed
documented
dogmatized
dogsledded
dogtrotted
domineered
dovetailed
downgraded
downloaded
downplayed
downscaled
dragonhead
dramatised
dramatized
dreamworld
duckwalked
dumfounded
dunderhead
duplicated
This list of 10 letter words beginning from d and ending with d alphabet is valid for both American English and British English with meaning. You can use these ten letter words for finding good domain names while playing scrabble or in research.
Similar sort of word lists:
Tags:
D
,
words starting with D and ending in D