Eight letter words starting with W and ending in G
Following is the complete list of three letter (8 letters) words starting with W and ending in G for domain names and scrabble with meaning.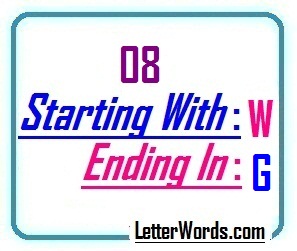 Eight letter words starting with W and ending in G
waddling
waddying
wafering
waffling
wagering
waggling
wagoning
waisting
wakening
waltzing
wambling
wangling
warbling
warsling
watchdog
watching
waterdog
watering
waterlog
wattling
wavering
waygoing
weakling
weanling
wearying
wedeling
weeklong
weighing
weirding
welching
welshing
wenching
whacking
whamming
whanging
whapping
wharfing
wheeling
wheeping
wheezing
whelming
whelping
whetting
whidding
whiffing
whinging
whipping
whirling
whirring
whishing
whisking
whisting
whizbang
whizzing
whomping
whoofing
whooping
whopping
whumping
whupping
widdling
widening
widowing
wielding
wiggling
wildling
willying
wimbling
wimpling
winching
windling
wingding
winkling
wintling
witching
wizening
wobbling
womaning
woopsing
wooshing
worrying
worsting
worthing
wounding
wracking
wrapping
wrathing
wreaking
wrecking
wresting
wricking
wringing
writhing
wronging
This list of 8 letter words beginning from w and ending with g alphabet is valid for both American English and British English with meaning. You can use these eight letter words for finding good domain names while playing scrabble or in research.
Similar sort of word lists:
Tags:
G
,
W
,
words starting with W and ending in G