Four letter words that start with E for domain names and scrabble
Following is the complete list of four letter (4 letters) words starting with E for domain names and scrabble with meaning.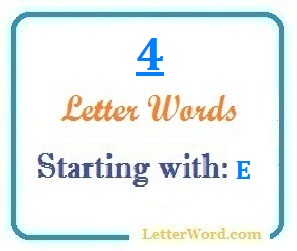 Four letter words starting with E
EACH EALE EANS EARD EARL EARN EARS EASE EAST EASY EATH EATS EAUS EAUX EAVE EBBS EBON ECAD ECCE ECCO ECHE ECHO ECHT ECOD ECOS ECRU ECUS EDDO EDDY EDGE EDGY EDHS EDIT EECH EELS EELY EERY EEVN EFFS EFTS EGAD EGAL EGER EGGS EGGY EGIS EGMA EGOS EHED EIDE EIKS EILD EINA EINE EISH EKED EKES EKKA ELAN ELDS ELFS ELHI ELKS ELLS ELMS ELMY ELSE ELTS EMES EMEU EMIC EMIR EMIT EMMA EMMY EMOS EMPT EMUS EMYD EMYS ENDS ENES ENEW ENGS ENOL ENOW ENUF ENVY EOAN EONS EORL EPEE EPHA EPIC EPOS ERAS ERED ERES EREV ERGO ERGS ERIC ERKS ERNE ERNS EROS ERRS ERST ERUV ESES ESKY ESNE ESPY ESSE ESTS ETAS ETAT ETCH ETEN ETHE ETHS ETIC ETNA ETUI EUGE EUGH EUKS EUOI EURO EVEN EVER EVES EVET EVIL EVOE EVOS EWER EWES EWKS EWTS EXAM EXEC EXED EXES EXIT EXON EXPO EXUL EYAS EYED EYEN EYER EYES EYNE EYOT EYRA EYRE EYRY
This list of 4 letter words starting with E alphabet is valid for both American English and British English with meaning. You can use these words for finding good domain names while playing scrabble or in research.
Four letter words starting with A
Four letter words starting with B
Four letter words starting with C
Four letter words starting with D
Four letter words starting with E
Four letter words starting with F
Four letter words starting with G
Four letter words starting with H
Four letter words starting with I
Four letter words starting with J
Four letter words starting with K
Four letter words starting with L
Four letter words starting with M
Four letter words starting with N
Four letter words starting with O
Four letter words starting with P
Four letter words starting with Q
Four letter words starting with R
Four letter words starting with S
Four letter words starting with T
Four letter words starting with U
Four letter words starting with V
Four letter words starting with W
Four letter words starting with X
Four letter words starting with Y
Four letter words starting with Z