Four letter words that start with Y for domain names and scrabble
Following is the complete list of four letter (4 letters) words starting with Y for domain names and scrabble with meaning.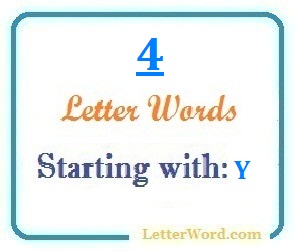 Four letter words starting with Y
YAAR YABA YACK YADS YAFF YAGI YAGS YAHS YAKS YALD YALE YAMS YANG YANK YAPP YAPS YARD YARE YARK YARN YARR YATE YAUD YAUP YAWL YAWN YAWP YAWS YAWY YAYS YBET YEAD YEAH YEAN YEAR YEAS YEBO YECH YEDE YEED YEGG YELD YELK YELL YELM YELP YELT YENS YEPS YERD YERK YESK YEST YETI YETT YEUK YEVE YEWS YGOE YIDS YIKE YILL YINS YIPE YIPS YIRD YIRK YIRR YITE YLEM YLKE YMPE YMPT YOBS YOCK YODE YODH YODS YOGA YOGH YOGI YOKE YOKS YOLD YOLK YOMP YOND YONI YONT YOOF YOOP YORE YORK YORP YOUK YOUR YOUS YOWE YOWL YOWS YUAN YUCA YUCH YUCK YUFT YUGA YUGS YUKE YUKO YUKS YUKY YULE YUMP YUNX YUPS YURT YUTZ YUZU YWIS
This list of 4 letter words starting with Y alphabet is valid for both American English and British English with meaning. You can use these words for finding good domain names while playing scrabble or in research.
Four letter words starting with A
Four letter words starting with B
Four letter words starting with C
Four letter words starting with D
Four letter words starting with E
Four letter words starting with F
Four letter words starting with G
Four letter words starting with H
Four letter words starting with I
Four letter words starting with J
Four letter words starting with K
Four letter words starting with L
Four letter words starting with M
Four letter words starting with N
Four letter words starting with O
Four letter words starting with P
Four letter words starting with Q
Four letter words starting with R
Four letter words starting with S
Four letter words starting with T
Four letter words starting with U
Four letter words starting with V
Four letter words starting with W
Four letter words starting with X
Four letter words starting with Y
Four letter words starting with Z