Fourteen letter words that start with W and end with S
Following is the complete list of fourteen letter (14 letters) words starting with W and ending in S for domain names and scrabble with meaning.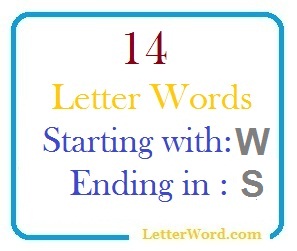 Fourteen letter words starting with W and ending in S
wastefulnesses
watchfulnesses
watercolorists
waterishnesses
waterproofings
waterproofness
watertightness
wearifulnesses
weathercasters
weatherglasses
weatherpersons
weightlessness
weightliftings
whimsicalities
whistleblowers
whortleberries
winglessnesses
winterizations
womanishnesses
wondrousnesses
woolgatherings
wordlessnesses
wordsmitheries
workablenesses
worklessnesses
worshipfulness
worthwhileness
wrathfulnesses
wretchednesses
wrongfulnesses
This list of 14 letter words that start with w and end with s alphabet is valid for both American English and British English with meaning. You can use these fourteen letter words for finding good domain names while playing scrabble or in research.