Nine letter words that start with A and end with G
Following is the complete list of nine letter (9 letters) words starting with A and ending in G for domain names and scrabble with meaning.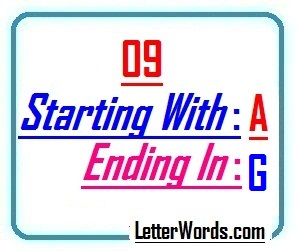 Nine letter words starting with A and ending in G
abhorring
abounding
abridging
abscising
abseiling
absenting
absolving
absorbing
abuilding
accenting
accepting
accessing
according
accosting
accreting
achieving
acquiring
actuating
acylating
addicting
adducting
adjoining
adjudging
adjusting
admitting
adsorbing
adulating
advancing
advecting
adverting
aerifying
affecting
affirming
affording
affraying
agatizing
agenizing
aggrading
agitating
agonising
agonizing
alaruming
alighting
allotting
ambushing
amounting
analysing
analyzing
anchoring
animating
annealing
annulling
anodizing
anointing
answering
antheming
antiaging
anticking
anticling
antiquing
anvilling
appalling
appealing
appearing
appeasing
appending
apprising
apprizing
approving
arabizing
archiving
argufying
armouring
arointing
aroynting
arranging
arresting
articling
ascending
ascribing
ashlaring
ashlering
aspersing
assailing
assenting
asserting
assessing
assigning
assisting
assoiling
assorting
assuaging
asswaging
astonying
atomising
atomizing
attaching
attacking
attaining
attending
attesting
attorning
aureoling
authoring
averaging
avouching
awakening
azotising
azotizing
This list of 9 letter words that start with a and end with g alphabet is valid for both American English and British English with meaning. You can use these nine letter words for finding good domain names while playing scrabble or in research.