Following is the complete list of  Nine  letter (9 letters) words starting with Y for domain names and scrabble with meaning.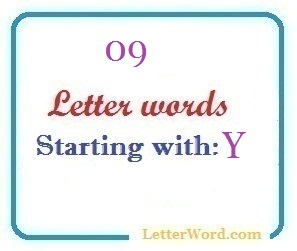 yabbering yachtings yachtsman yachtsmen yahooisms
yahrzeits yakitoris yammerers yammering yardbirds yardlands
yardstick yardwands yardworks yarmelkes yarmulkes yataghans
yattering yawmeters yawningly yeanlings yearbooks yearlings
yearnings yeasayers yeastiest yellowest yellowfin yellowing
yellowish yeshivahs yeshivoth yesterday yestreens yodellers
yodelling yoghourts yohimbine yokemates yokozunas youngling
youngness youngster youthened ytterbias ytterbium yuletides.
This list of 9 letter words starting with Y alphabet is valid for both American English and British English with meaning. You can use these Nine letter words for finding good domain names while playing scrabble or in research.
Nine letter words starting with A
Nine letter words starting with B
Nine letter words starting with C
Nine letter words starting with D
Nine letter words starting with E
Nine letter words starting with F
Nine letter words starting with G
Nine letter words starting with H
Nine letter words starting with I
Nine letter words starting with J
Nine letter words starting with K
Nine letter words starting with L
Nine letter words starting with M
Nine letter words starting with N
Nine letter words starting with O
Nine letter words starting with P
Nine letter words starting with Q
Nine letter words starting with R
Nine letter words starting with S
Nine letter words starting with T
Nine letter words starting with U
Nine letter words starting with V
Nine letter words starting with W
Nine letter words starting with X
Nine letter words starting with Y
Nine letter words starting with Z