Thirteen letter words that start with C and end with E
Following is the complete list of thirteen letter (13 letters) words starting with C and ending in E for domain names and scrabble with meaning.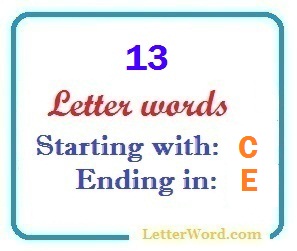 Thirteen letter words starting with C and ending in E
cephaloridine
chameleonlike
chlamydospore
chlorobenzene
chromatophore
circumference
circumvallate
clairaudience
claustrophobe
clearinghouse
cocarboxylase
collaborative
collateralize
collieshangie
commemorative
commensurable
commercialise
commercialize
commiserative
communicative
companionable
compassionate
comprehensive
computerphobe
concentrative
conceptualise
conceptualize
concupiscence
concupiscible
conditionable
confederative
configurative
confiscatable
conservatoire
constructible
contaminative
contemplative
contextualize
contraceptive
convalescence
conversazione
convertaplane
convertiplane
copyrightable
corresponsive
corroborative
counteractive
counterchange
countercharge
counterstrike
counterstroke
countinghouse
craftsmanlike
cyanoacrylate
cyanoethylate
cyclohexanone
cycloheximide
This list of 13 letter words that start with c and end with e alphabet is valid for both American English and British English with meaning. You can use these thirteen letter words for finding good domain names while playing scrabble or in research.