Thirteen letter words that start with T and end with E
Following is the complete list of thirteen letter (13 letters) words starting with T and ending in E for domain names and scrabble with meaning.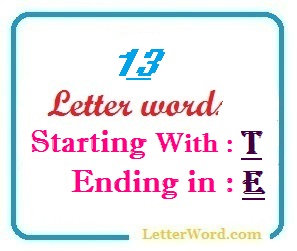 Thirteen letter words starting with T and ending in E
telefacsimile
terephthalate
tetrachloride
tetrafluoride
theatricalize
thiabendazole
thoroughbrace
thrombokinase
thunderstrike
thunderstroke
transactinide
transcendence
transcriptase
transferrable
transformable
transgressive
transistorise
transistorize
transliterate
transmembrane
transmissible
transmittable
transmittance
transmutative
transportable
triamcinolone
trichothecene
trinucleotide
trisaccharide
This list of 13 letter words that start with t and end with e alphabet is valid for both American English and British English with meaning. You can use these thirteen letter words for finding good domain names while playing scrabble or in research.