Following is the complete list of twelve letter (12 letters) words starting with D and ending in E for domain names and scrabble with meaning.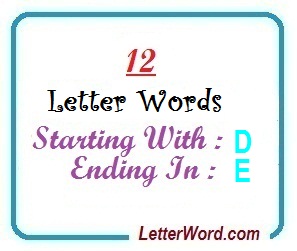 Twelve letter words starting with D and ending in E
decaffeinate
decasyllable
decentralize
dechlorinate
decipherable
decompensate
decomposable
decongestive
deconsecrate
defenestrate
defibrillate
degenerative
degringolade
deliberative
demilitarize
demimondaine
demineralize
demonstrable
denaturalize
denominative
denuclearize
denunciative
depoliticize
depolymerize
depreciative
depressurize
dermatophyte
desiderative
destructible
determinable
detumescence
deuterostome
diagnoseable
diagrammable
differentiae
diminishable
dinucleotide
diphthongize
disaccharide
disadvantage
disaffiliate
disaggregate
disagreeable
disallowance
disambiguate
disassociate
discomfiture
discomposure
disconsolate
discountable
discoverable
discriminate
disfranchise
disharmonize
dishonorable
disincentive
disintegrate
disobedience
disorientate
displaceable
disreputable
disseverance
dissociative
distemperate
distractable
distractible
distrainable
distributive
ditransitive
documentable
doughnutlike
downloadable
dramatizable
dumortierite
This list of 12 letter words that start with d and end with e alphabet is valid for both American English and British English with meaning. You can use these twelve letter words for finding good domain names while playing scrabble or in research.