Twelve letter words that start with I and end with E
Following is the complete list of twelve letter (12 letters) words starting with I and ending in E for domain names and scrabble with meaning.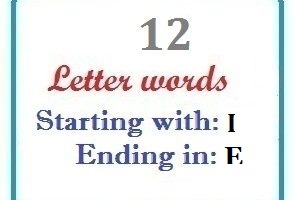 Twelve letter words starting with I and ending in E
illegitimate
illuminative
illustrative
immeasurable
immensurable
impenetrable
imperceptive
imperfective
imperishable
impermanence
impertinence
imponderable
improvidence
inaccessible
inadmissible
inadvertwelvece
inappeasable
inapplicable
inarticulate
incalculable
incalescence
incapacitate
incognizance
incommutable
incomparable
incompatible
incompetwelvece
incomputable
inconclusive
incongruence
inconsolable
inconsonance
inconsumable
incontinence
incorporable
incorrigible
indeclinable
indefeasible
indefectible
indefensible
indehiscence
independence
indifference
indigestible
indiscipline
indisputable
indissoluble
indoctrinate
ineffaceable
ineradicable
inexactitude
inexpedience
inexperience
inexplicable
inexpressive
inexpugnable
inexpungible
inextricable
infiltrative
inhospitable
inobservance
inoperculate
insolubilize
inspectorate
insufferable
intellective
intelligence
intelligible
intemperance
intercompare
interculture
interdictive
interdiffuse
interference
interfertile
interinvolve
intermediate
interminable
intermixture
intermontane
interpellate
interpretive
interrogatee
interruptive
interservice
intersterile
intertillage
intervillage
intervisible
intransitive
intrauterine
introversive
intumescence
invertebrate
invulnerable
irredeemable
irreformable
irrefragable
irremediable
irrepealable
irresistible
irresolvable
irrespective
irresponsive
irreversible
isoprenaline
This list of 12 letter words that start with i and end with e alphabet is valid for both American English and British English with meaning. You can use these twelve letter words for finding good domain names while playing scrabble or in research.