Following is the complete list of  two letter (2 letters) words ending with E or finishing in E for domain names and scrabble with meaning.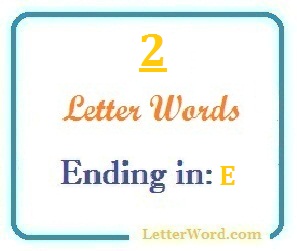 AE one
BE to exist
DE of from
HE male person
ME pronoun referring to myself
NE born with the name of (nee)
OE Faroean wind
PE Hebrew letter
RE second tone of diatonic musical scale
WE plural pronoun
YE you
This list of 2 letter words ending in E alphabet is valid for both American English and British English with meaning. You can use these words for finding good domain names while playing scrabble or in research.
Two letter words ending with  A
Two letter words ending with  B
Two letter words ending with  C
Two letter words ending with  D
Two letter words ending with  E
Two letter words ending with  F
Two letter words ending with  G
Two letter words ending with  H
Two letter words ending with  I
Two letter words ending with  J
Two letter words ending with  K
Two letter words ending with  L
Two letter words ending with  M
Two letter words ending with  N
Two letter words ending with  O
Two letter words ending with  P
Two letter words ending with  Q
Two letter words ending with  R
Two letter words ending with  S
Two letter words ending with  T
Two letter words ending with  U
Two letter words ending with  V
Two letter words ending with  W
Two letter words ending with  X
Two letter words ending with  Y
Two letter words ending with  Z