Following is the complete list of five letter (5 letters) words starting with K for domain names and scrabble with meaning.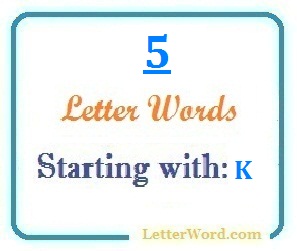 Five letter words starting with K
kabab kabar kabob kadis kafir kagus kaiak
kaifs kails kains kakas kakis kalam kales kalif kalpa kames kamik kanas
kanes kanji kanzu kaons kapas kaphs kapok kappa kaput karat karma karns
karoo karst karts kasha katas kauri kaury kavas kayak kayos kazoo kbars
kebab kebar kebob kecks kedge keefs keeks keels keens keeps keets keeve
kefir keirs kelep kelim kelly kelps kelpy kelts kemps kempt kenaf kench
kendo kenos kente kepis kerbs kerfs kerne kerns kerry ketch ketol kevel
kevil kexes keyed khadi khafs khaki khans khaph khats kheda kheth khets
khoum kiang kibbe kibbi kibei kibes kibla kicks kicky kiddo kiddy kiefs
kiers kikes kilim kills kilns kilos kilts kilty kinas kinds kines kings
kinin kinks kinky kinos kiosk kirks kirns kissy kists kited kiter kites
kithe kiths kitty kivas kiwis klick kliks klong kloof kluge klutz knack
knaps knars knaur knave knawe knead kneed kneel knees knell knelt knife
knish knits knobs knock knoll knops knosp knots knout known knows knurl
knurs koala koans kobos koels kohls koine kojis kolas kolos kombu konks
kooks kooky kopek kophs kopje koppa korai koras korat korma korun kotos
kotow kraal kraft krait kraut kreep krewe krill krona krone kroon krubi
kudos kudus kudzu kufis kugel kukri kulak kumys kurta kurus kusso kvass
kvell kyack kyaks kyars kyats kylix kyrie kytes kythe
This list of 5 letter words starting with K alphabet is valid for both American English and British English with meaning. You can use these five letter words for finding good domain names while playing scrabble or in research.
Five letter words starting with A
Five letter words starting with B
Five letter words starting with C
Five letter words starting with D
Five letter words starting with E
Five letter words starting with F
Five letter words starting with G
Five letter words starting with H
Five letter words starting with I
Five letter words starting with J
Five letter words starting with K
Five letter words starting with L
Five letter words starting with M
Five letter words starting with N
Five letter words starting with O
Five letter words starting with P
Five letter words starting with Q
Five letter words starting with R
Five letter words starting with S
Five letter words starting with T
Five letter words starting with U
Five letter words starting with V
Five letter words starting with W
Five letter words starting with X
Five letter words starting with Y
Five letter words starting with Z