Following is the complete list of five letter (5 letters) words starting with Z for domain names and scrabble with meaning.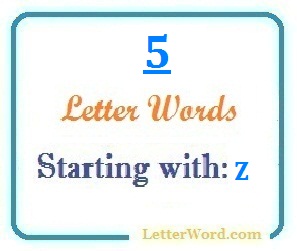 Five letter words starting with Z
zaire zamia zanza zappy zarfs zaxes zayin zazen zeals zebec
zebra zebus zeins zerks zeros zests zesty zetas zibet zilch zills zincs
zincy zineb zines zings zingy zinky zippy ziram zitis zizit zlote zloty
zoeae zoeal zoeas zombi zonae zonal zoned zoner zones zonks zooey zooid
zooks zooms zoons zooty zoril zoris zouks zowie zuzim zymes
This list of 5 letter words starting with Z alphabet is valid for both American English and British English with meaning. You can use these five letter words for finding good domain names while playing scrabble or in research.
Five letter words starting with A
Five letter words starting with B
Five letter words starting with C
Five letter words starting with D
Five letter words starting with E
Five letter words starting with F
Five letter words starting with G
Five letter words starting with H
Five letter words starting with I
Five letter words starting with J
Five letter words starting with K
Five letter words starting with L
Five letter words starting with M
Five letter words starting with N
Five letter words starting with O
Five letter words starting with P
Five letter words starting with Q
Five letter words starting with R
Five letter words starting with S
Five letter words starting with T
Five letter words starting with U
Five letter words starting with V
Five letter words starting with W
Five letter words starting with X
Five letter words starting with Y
Five letter words starting with Z