Following is the complete list of  three letter (3 letters) words starting with L for domain names and scrabble with meaning.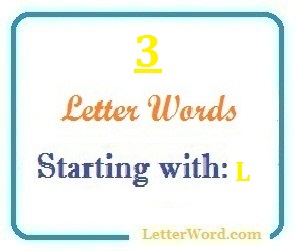 LAB	laboratory
LAC	resinous substance secreted by insects
LAD	boy
LAG	to fall behind
LAM	to flee
LAP	to drink with the tongue
LAR	Roman tutelary god
LAS	[la] (sixth tone of diatonic musical scale)
LAT	former Latvian monetary unit
LAV	lavatory
LAW	to sue
LAX	not strict or stringent
LAY	to place
LEA	meadow
LED	[lead-conj] (to show the way)
LEE	shelter from the wind
LEG	to walk hurriedly
LEI	flower necklace
LEK	Albanian monetary unit
LET	to rent
LEU	monetary unit of Rumania
LEV	Bulgarian monetary unit
LEX	law
LEY	lea
LEZ	lesbian
LIB	liberation
LID	to provide with a lid
LIE	to become horizontal/to tell untruths
LIN	waterfall (linn)
LIP	to touch with the lips
LIS	[li] (Chinese unit of distance)
LIT	[light] (to illuminate)/former Lithuanian monetary unit (litas)
LOB	to throw in a high arc
LOG	to cut down trees for timber
LOO	to subject to a forfeit at the card game loo
LOP	to chop off
LOT	to distribute proportionately
LOW	close to the ground/to make the sound of cattle
LOX	to supply with lox (liquid oxygen)
LUG	to pull with effort
LUM	chimney
LUV	sweetheart
LUX	unit of illumination
LYE	solution used to make soap
This list of 3 letter words starting with L alphabet is valid for both American English and British English with meaning. You can use these words for finding good domain names while playing scrabble or in research.
Three letter words starting with A
Three letter words starting with B
Three letter words starting with C
Three letter words starting with D
Three letter words starting with E
Three letter words starting with F
Three letter words starting with G
Three letter words starting with H
Three letter words starting with I
Three letter words starting with J
Three letter words starting with K
Three letter words starting with L
Three letter words starting with M
Three letter words starting with N
Three letter words starting with O
Three letter words starting with P
Three letter words starting with Q
Three letter words starting with R
Three letter words starting with S
Three letter words starting with T
Three letter words starting with U
Three letter words starting with V
Three letter words starting with W
Three letter words starting with X
Three letter words starting with Y
Three letter words starting with Z