Following is the complete list of  three letter (3 letters) words starting with T for domain names and scrabble with meaning.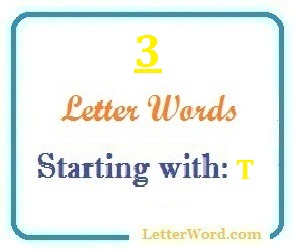 TAB	to name or designate
TAD	small boy
TAE	to
TAG	to provide with a tag
TAJ	tall  conical cap worn in Muslim countries
TAM	tight-fitting Scottish cap
TAN	brown from the sun's rays/to convert hide into leather by soaking in chemicals
TAO	path of virtuous conduct according to a Chinese philosophy
TAP	to strike gently
TAR	to cover with tar
TAS	[ta] (thanks)
TAT	to make tatting
TAU	greek letter
TAV	Hebrew letter
TAW	to convert into white leather by the application of minerals
TAX	to place a tax on
TEA	beverage made by infusing dried leaves in boiling water
TED	to spread for drying
TEE	to place a golf ball on a small peg
TEG	yearling sheep
TEL	ancient mound in the Middle East
TEN	number 10
TET	Hebrew letter (teth)
TEW	to work hard
THE	article used to specify or make particular
THO	though
THY	possessive form of the pronoun thou
TIC	involuntary muscular contraction
TIE	to fasten with a cord or rope
TIL	sesame plant
TIN	to coat with tin
TIP	to tilt
TIS	[ti] (seventh tone of diatonic musical scale)
TIT	small bird
TOD	British unit of weight
TOE	to touch with the toe
TOG	to clothe
TOM	male of various animals
TON	unit of weight
TOO	in addition
TOP	to cut off the top
TOR	high  craggy hill
TOT	to total
TOW	to pull by means of a rope or chain
TOY	to amuse oneself as if with a toy
TRY	to attempt
TSK	to utter a scolding exclamation
TUB	to wash in a tub
TUG	to pull with force
TUI	bird of New Zealand
TUN	to store in a large cask
TUP	to copulate with a ewe
TUT	to utter an exclamation of impatience
TUX	tuxedo
TWA	two
TWO	number 2
TYE	chain on a ship
This list of 3 letter words starting with T alphabet is valid for both American English and British English with meaning. You can use these words for finding good domain names while playing scrabble or in research.
Three letter words starting with A
Three letter words starting with B
Three letter words starting with C
Three letter words starting with D
Three letter words starting with E
Three letter words starting with F
Three letter words starting with G
Three letter words starting with H
Three letter words starting with I
Three letter words starting with J
Three letter words starting with K
Three letter words starting with L
Three letter words starting with M
Three letter words starting with N
Three letter words starting with O
Three letter words starting with P
Three letter words starting with Q
Three letter words starting with R
Three letter words starting with S
Three letter words starting with T
Three letter words starting with U
Three letter words starting with V
Three letter words starting with W
Three letter words starting with X
Three letter words starting with Y
Three letter words starting with Z